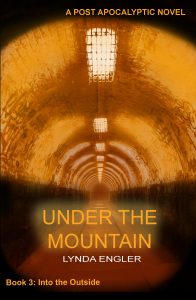 Under the Mountain
Book #3: Into the Outside
The military has captured and imprisoned Isabella and her new family. They and other captive mutants face certain death cleaning lethal radiation zones unless Dr. Rosario's cure can save them. Can Isabella's brother Luke and the Mt. Weather rebel group convince enough of the army that the mutants are worth saving? Without their help, the mutants are doomed.
Coming early 2018. Available in paperback, wherever books are sold
and on Amazon Kindle and Audible.