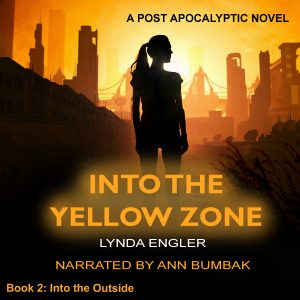 September 2017: Into the Yellow Zone coming on Audible!
The very talented producer Ann Bumbak has agreed to produce the unabridged audio version of Into the Yellow Zone.
Production has been completed and the book will be available the first week of September.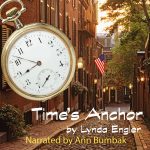 July 2017: Time's Anchor now out on Audible.
Narrated by Ann Bumbak, Time's Anchor is now available for audio books. Ann is an author, trainer, and a keynote speaker in the law enforcement community. She has narrated more than half a dozen books.
5.0 out of 5 stars WOW!!!! What a great short story…
by THOMAS on August 22, 2017
I didn't know anything about this book when it was given to me…. but I am so glad it was…. This is a completely different take on time travel than anything I had ever seen before. Truthfully, I was not sure if it was going to end well or badly for Will and Ophelia, and I won't give it away. But, a weird side-effect from a study at MIT causes those who participated to slide through time at random, disappearing at any time, and reappearing in the same place at some undetermined later time, with the subject remembering the old time line, and their spouses and everyone else only remembering the new changes caused by the time travel ("Glad you got a cat to keep you company while I am gone." "We've had that cat for six years."). I hope that this piques your interest, because this is a very entertaining story, told mostly from Ophelia's point of view. You will not be disappointed (or will you? by the ending, I mean…).
Kindle: US $0.99, UK £0.83, EU €0.83. FREE for Kindle Unlimited subscribers
Audible: US $6.95 , UK £5.94
Released March 31, 2017: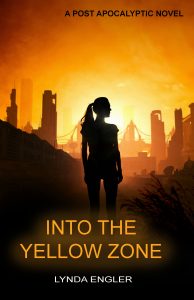 Into the Yellow Zone
Shelter-girl Isabella journeys into the dangerous Yellow Zone to find the one man who might save them all. But can her brother Luke catch her in time to save her from a deadly disease? Into the Yellow Zone is a thought provoking YA dystopian romance, set in a darkly riveting world that will appeal to fans of Marie Lu's Legend.
Young Adult Science Fiction (Ages 15+), 2017

Kindle: US $0.99, UK £0.83, EU €0.83. FREE for Kindle Unlimited subscribers
Paperback on Amazon: US $10.99, UK £6.99, EU €9.99
Audible coming late summer 2017: Narrated by Ann Bumbak

* * * * * * * * * * * * * * * * * * * * * * * *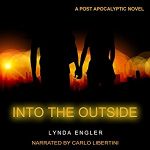 Win 1 of 5 copies of INTO THE OUTSIDE for Audible
Enter to win one of five copies by January 31, 2017. Don't worry if you don't have an Audible account. It's a free app for your phone or pc.
This contest is no longer accepting entries.
This contest is now closed, but you can download the audio book from Audible.com.
September 30-Oct 2, 2016: SCBWI-Carolina's Writer's Conference
Th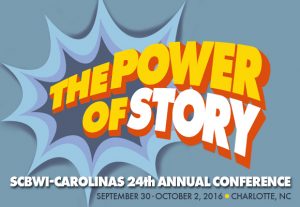 e Power of Story took place in Charlotte, NC for three event-filled days. It featured editors, agents, and intensive workshops. I enjoyed meeting other author's from my new region and as always, learning from the best!
July 2016: Into the Outside Audio book now available!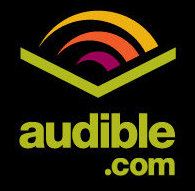 The very talented producer Carlo Libertini has agreed to produce the unabridged audio version of Into the Outside.
Available at Audible.com
February 2016: Goodreads Giveaway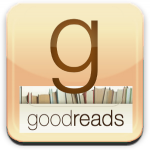 Wow, we did amazing on our February Goodreads Giveaway! Into the Outside got 595 entries! We gave away ten signed First Edition copies to participants around the U.S. Thanks to everyone who participated, shared or tweeted! You rock!
Look for more giveaways in 2016.
October 5, 2015: PubaBook.com added us to their site.


Pubabook.com publishes eBook deals of the day and has featured Lynda Engler and Henry Dixon as their Spotlight Author for October 2015.
October 3, 2015:  Ripley's Booklist reviewed and featured INTO THE OUTSIDE!

Ripley Patton is an American writer of fiction, and a student and purveyor of myth. She is in love with storytelling in all of its various forms, though with the speculative forms most of all and YA in particular.  She has a fascination with such topics and themes as death, sex, gender, female empowerment, magic, science, paganism, and anything that makes her laugh.
September 21, 2015: BookDaily.com added us to their site.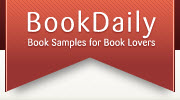 With more than 40,000 active readers, BookDaily  offers sample chapters of more than 93,000 books on the site. Readers can browse the sample chapters and also receive them by email. Bookdaily currently distributes more than 181,000 sample chapters per day by email.
September 10, 2015: Indie Book Butler added us to their site.

They are an excellent resource for finding the best indie books, in all genres.
August 28, 2015: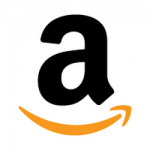 First 5 people win a FREE paperback copy of Into the Outside from Amazon! http://amzn.to/1F38Gbj
This contest is now closed.
December 17, 2011: Bear Pond Books, Book Signing
Th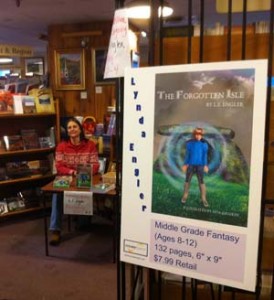 ank you to Bear Pond Books, Stowe Vermont for hosting this event. Bear Pond Books is a historic icon in the scenic town of Stowe, Vermont and it was an honor to be invited there for a day-long book signing. I was privileged to meet and chat with so many wonderful people adults and kids alike.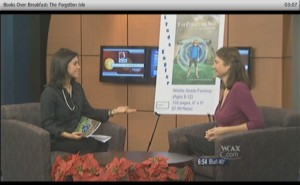 Watch the December 28, 2011 WCAX Channel 3 broadcast of Books Over Breakfast interview, where I introduced The Forgotten Isle to the local Vermont audience. I was a bit nervous, as this was my first television interview, but in the end it turned out to be a lot of fun! Henry was there with me, lending support from off camera.