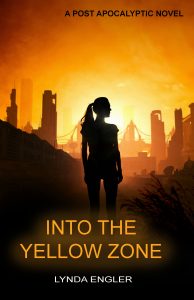 Into the Yellow Zone, by Lynda Engler
Shelter-girl Isabella journeys into the dangerous Yellow Zone to find the one man who might save them all. But can her brother Luke catch her in time to save her from a deadly disease? Into the Yellow Zone is a thought provoking YA dystopian romance, set in a darkly riveting world that will appeal to fans of Marie Lu's Legend.
Humanity has hidden underground for fifty years since the Final War destroyed the Earth. Above ground, short-lived, mutated humans eke out a meager existence. When 16-year-old Isabella falls in love with a mutant tribe's 17-year-old leader, she leaves her shelter to follow her heart into the dangerous Outside.
They have found happiness in the small mutant settlement of Telemark, but when their Wiccan seer has a vision of an old scientist mixing things in test tubes, Isabella and her new husband, Malcolm, are certain the old man is working on a cure for the poisons Outside. Together, they leave the community and most of their tribe behind, to find him. Now they journey into the dangerous Yellow Zone to find the one man who might save them all.
Unknown to Isabella, her cousin-brother, Luke, escapes from the military base and races against time to save her from a deadly disease she does not know she is carrying. Can Luke find her before she succumbs?
Young Adult Science Fiction (Ages 15+), 2017
ISBN: 978-1-53718557-6, 276 pages, 6″ x 9″
Published March 31, 2017. 
Kindle: US $0.99, UK £0.83, EU €0.83. FREE for Kindle Unlimited subscribers
Paperback on Amazon: US $10.99, UK £6.99, EU €9.99
Audible coming September 2017: Narrated by Ann Bumbak

Time's Anchor, a Time Travel Short Story, by Lynda Engler
Ophelia's husband disappears at the most inopportune times. After 10 years, she's not sure why she puts up with it, other than the fact that she's loved him since she met him in college, before the physics experiment that started Will involuntarily sliding through time. She leans on her friends for support – the partners of the unwilling time travelers – until one returns from a slide beaten to death. The shock of this tragedy reverberates through the group, and they make a decision that any time traveler who has the opportunity to prevent the initial experiment from ever taking place should do so without hesitation. A human story of love, friendship, and life's joys and sorrows, set against the backdrop of a mystery that ranges from modern day Boston to Civil War Virginia to the casino building boom of Las Vegas.
*****CLICK HERE to read Goodreads reviews
Science Fiction Short Story, 2016
AISN: B01HSX38WS, 60 pages
Kindle: US $0.99, UK £0.99, EU €0.99. FREE for Kindle Unlimited subscribers
Audible: US $6.95, UK £5.94, EU €6.96  Narrated by Ann Bumbak, Length: 1 hr and 25 mins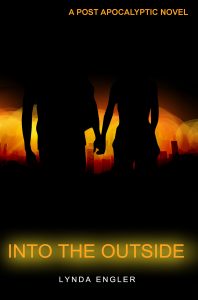 Into the Outside, by Lynda Engler and Henry Dixon
Fifty years ago the Earth died. The Earth is now a fertile but dangerous jungle world. Wildlife has prospered although often in oddly altered forms. Survivors live in underground shelters waiting generations for the environment to become safe enough to emerge. Above ground, the radiation and poison has mutated the few humans that are left, but they do their best to survive for the 20 to 22 years they might live before the toxic planet or disease kills them.
16-year-old Isabella has grown up believing mutants are sub-human, stupid and would eat every shelter person if they had the chance, until she spies a wandering mutant tribe through the glass bottom swimming pool that is her shelter's only light source. Isabella is fascinated by them, but it's their 17-year-old leader, Malcolm, who truly captivates her – ebony skin, straw-colored hair, rippling muscles, four fingers on one hand and six on the other. Night after night she sneaks out of her shelter to watch the tribe, dressed in her grandfather's chemical/radiation suit. When Malcolm discovers her, they are wary of each other at first but eventually become friends and then lovers. Isabella finally leaves the safety of her shelter to follow Malcolm into the perilous Outside.
Isabella knows the government plans to exterminate the mutants once it is safe for the shelter-folk to come Outside, and she expects radiation and disease, but no one in the tribe is prepared for cannibals!
Isabella's family mourns for their lost daughter, knowing that she will die Outside, but Grandfather refuses to search for her. Even if they found her, he knows that she will not return without the mutants, and he will not allow them into the shelter. But everything changes when her brother, Luke, learns of Colonel Ericssen's deadly plan for the mutants. Luke defies their grandfather and leaves the shelter to track down Isabella and warn her of the threat she knows nothing about. But he is no more prepared for the dangers Outside than she is. Hunted and finally captured by the military, Luke must escape their grasp, find Isabella, and save her life.
Battling the cannibal Eaters, taking on orphan children and trying to convince mutant tribes about the dangers they must prepare for makes Isabella question her decision to leave her shelter. She dreamed of making a difference in the lives of those Outside, but now she isn't certain has the courage and strength do it.
Young Adult Science Fiction (Ages 15+), 2015
ISBN: 978-1-514-80011-9, 276 pages, 6″ x 9″
Available wherever books are sold – visit your local bookseller and if you don't see it on the shelf, ask them to order it.
Kindle: US $0.99, UK £0.83, EU €0.83  FREE for Kindle Unlimited subscribers
Paperback on Amazon: US $10.99, UK £6.99, EU €9.99
Audible: US $19.95, UK £16.69, EU €19.21  Narrated by: Carlo Libertini, Length: 6 hrs and 54 mins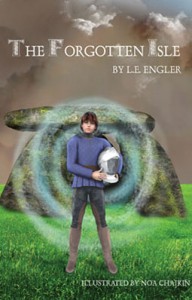 The Forgotten Isle, by Lynda Engler
Before Arthur was King, the legendary Ruler of Britain, before the Round Table, before Lancelot and Guinevere…
Arthur finds himself magically transported back to 2200 B.C., the Bronze Age. An evil power has entered the Emerald Isle and Finias is under attack. As the villagers flee from the demon power, Danu, the Earth Mother, who is sworn to protect her people, has run out of ideas.  She reaches 2700 years into the future and transports young Arthur of the Britons to her. Someday, Arthur will unite all of England and be King, but right now he's only 12. Does he have the knowledge and courage needed to save her people?
Middle Grade Fantasy (Ages 8-12), 2011
ISBN: 978-1-466-20232-0, 132 pages, 6″ x 9″
Out of print