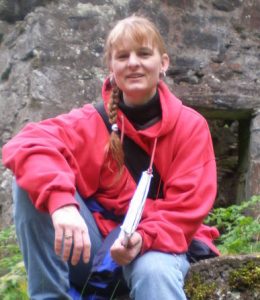 Guest blog from 

LAURA VOSIKA
March, 2018

I wandered into time travel by way of a children's novel called In the Keep of Time, and I wandered from there into medieval Scotland by way of trombone—admittedly not the normal route!

In the Keep of Time was probably the first time travel story I ever read. Written by Margaret Anderson in the 70s, it told the story of four siblings—Andrew, Eleanor, Edward, and Ollie—who are left with their elderly great aunt in Scotland for a summer. They are not as enthused as Aunt Grace about the medieval ruin—Smailholm Keep—to which she holds the key. Nonetheless, with nothing else to do, they go in. When Ollie wiggles between bars and falls, they race to the lower floor, dreading what they'll find. The last thing they expect is—cattle. And it has suddenly become night. They have been transported to Scotland of the 1500s, and the impending battle at which James II—James of the Fiery Face—will die.

Some time later, I took up trombone. As the years went by, I tried the famous trombone theme and variations, Blue Bells of Scotland, based on the old folk song of the same name. The lyrics—about streaming banners and noble deeds—described just the sort of book I would like to read.

Well, if you're going to tell a story about streaming banners and noble deeds, chances are it's going to involve a battle. My research brought me to Bannockburn, the great David and Goliath clash between the earth-shaking forces of Edward II of England, and the much smaller, ill-equipped army of Robert the Bruce, King of Scots.

And so came about the story of Shawn Kleiner, arrogant, obnoxious classical musician with star-level fame—and notoriety—finding himself caught in medieval Scotland. Without his fame and money, things are very different. People there will run him through with a pitchfork for kissing their daughters! He is expected to see the lovely Allene safely through the wilderness, pursued by English soldiers, to raise troops for the impending and potentially disastrous battle that might destroy Scotland.

It is also the story of Niall Campbell, noble and upright medieval Highlander, caught in modern Scotland and mistaken for Shawn, reading a horrifying history of his own people, and seeking a way back across time to save them, fighting against all the anger Shawn has left in his wake.

The rest is—dare I say?—history! Blue Bells of Scotland came out in 2009, spending most of a year in the top 100 in all three of its categories. It was followed by The Minstrel Boy, The Water is Wide, and Westering Home, telling the story of Niall and Shawn's growing friendship as they work together for the Bruce, and seek a way to get Shawn home.The fifth and final book, The Battle is O'er, is available March 23, 2018.

So what's next, after nine years of Shawn, Niall, the Laird, Allene, Amy, Christina, and the boy Red found in an ancient Roman fort?

I have many projects on my plate. A couple of these are non-fiction—Theology of Music, to be co-written with Dr. Chris R. Powell, and a book on large families (I have nine children, myself). But I do have a work in progress called The Castle of Dromore (anyone familiar with Celtic music will notice a theme here!) which, while a ghost story rather than time travel, does, like The Blue Bells Chronicles, tell dual tales of events in modern and medieval Scotland.

It is the story of Lisa Quinn, harpist and mother, recently widowed and under a dark suspicion in her native Boston. She sells all she has and puts it all into buying a medieval castle in Scotland, where she moves her five lively boys for a fresh start.

Only after she's turned over all her money does she discover the castle is haunted. A lady in green appears in the courtyard, beckoning to one of the boarded up towers. She appears fond of Lisa's boys in particular. A mysterious harp plays in Lisa's rooms. Lisa's greatest fear is her boys finding out their new home is haunted.

Meanwhile, back in medieval Scotland… bit by bit, Lisa learns the tragic tale of Christian and Anna, of Sir Thomas, of jealousies, betrayals, and the final act that ties the woman in green to the castle of Dromore.

Sometimes, in learning the past, we heal from our own and find our way to a better future.
EXCERPT FROM THE BATTLE IS O'ER
"You know these tunnels?" the chief asked.
"I know them well," Shawn said tersely.
You're in your time. That had been Amy, as he led her, too, seven hundred years later, just months ago in July, through these same passages. A chill shot through him, wondering if Niall might be down here. He had seen just a glimpse of him, as he burst into the chapel, just a glimpse of his best friend, his brother, knife raised, looking at Simon, as he faded away. Yes, he, too, would be in these passages, searching for Simon in his own time.
"How do you know them?" Clive asked. His light played over the dirt floor.
"Watch carefully," Shawn returned. "There's a side passage opening up. He could be hiding there."
"How do you know them?" Clive asked again.
"I told you," Shawn said irritably. "I spent a good part of two years here."
"You were only gone a year."
In the close passage, Shawn spun. "Do you not get it? There's a medieval madman down here—maybe—who will kill you. He'll have his knife under your ribs and through your heart in the blink of an eye, if you're not paying attention! Could we maybe have our coffee klatch later?"
In the shadowed light of the labyrinth, Clive's face remained passive, his eyes dark. He nodded, and spoke to the chief. "Guard the exit. I'll go with Kleiner." Before his boss could object, he pushed ahead in the cramped tunnel, saying over his shoulder, "You're needed at the precinct."
###
Many thanks to Laura Vosika for sharing her story with us. Please check out more about Laura at:
WEB SITE: www.bluebellschronicles.com
BLOG on MEDIEVAL HISTORY: http://bluebellstrilogy.blogspot.com
FACEBOOK: www.facebook.com/laura.vosika.author
TWITTER: www.twitter.com/lauravosika
Laura will be doing an 'author takeover' at Liter (arily) Speaking—Nurture Your Books on March 24, from 4:30 to 7:30.  https://www.facebook.com/groups/1747003978939464/