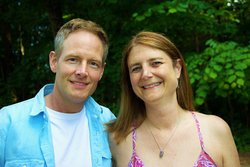 Lynda Engler
I grew up in New Jersey, then spent three decades in New England, between Connecticut and Vermont, but now make North Carolina my home. When not reading or writing, I enjoy being outside kayaking, walking, cycling or skiing in winter.
After a long career working with books, first as a buyer for a national retail book chain, then as a production associate publishing leather-bound classic books, I decided to use my creative energy to actually write some books! My kids were a great inspiration.
My first book, The Forgotten Isle, was originally published in 2004 and was re-released in 2011 with new illustrations from the very talented Noa Chaikin.
My second book, Into the Outside, (co-authored with Henry Dixon) is Young Adult science fiction. It was originally published as the short story "Out of Ewr." It's sequel, Into the Yellow Zone, releases March 31, 2017.
Henry Dixon is a massage therapist in North Carolina. His insightful understanding of human nature and his expert ability to weave ideas together made him the perfect co-author for Into the Outside, even if he never wanted to be a writer.